How Can We Help?
Home care is available for every stage of life from newborns to care of the dying. It can be provided following hospitalization or chosen as an alternative to an inpatient hospital stay. Many treatments traditionally done in the hospital setting may now be completed at home where the patient is the most comfortable and recovers most effectively.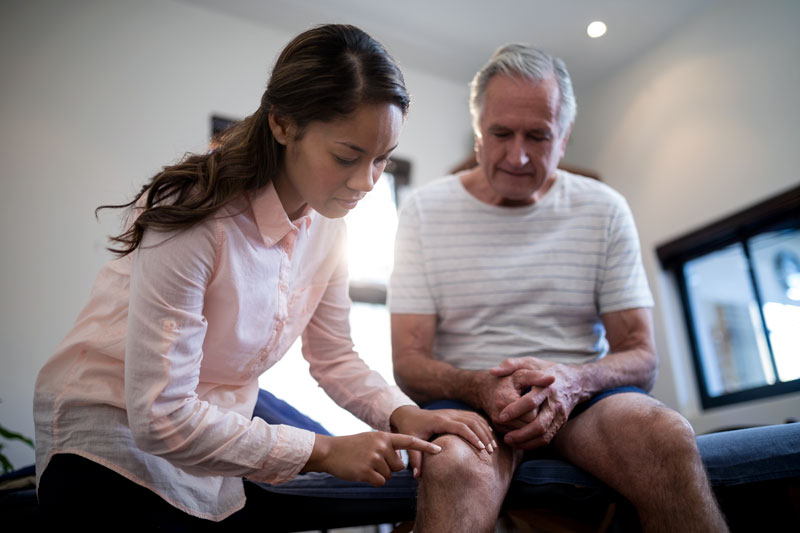 Home care is available from any of the following professionals:
Registered Nurses can teach about disease, educate on medications, perform wound care, administer IV's, manage chronic symptoms and provide post-hospitalization support.
Home Health Aides can assist with bathing, dressing, meal preparation and light housekeeping.
Physical Therapists can assist with rehabilitation after general surgery or joint replacement, stroke or any condition that results in weakness or physical impairment especially following a stay at a rehabilitation or extended care facility.
Occupational Therapists can help restore ability to shower and perform activities of daily living such as dressing, grooming, and cooking following a stay at a rehabilitation or extended care facility.
Speech Therapists can work to restore swallowing and speech abilities that may result from stroke or cancer. They also may treat cognitive impairments related to dementia.
Social Workers can assist with short-term and long-term planning, family dynamics and facilitate coordination with needed resources.
OK...what do I do now?
There are several ways to initiate home care services. The process will vary somewhat depending on the need. We can help you determine this. Most insurances are accepted.
If you think you need home care, begin by doing one of the following:
The Patient Bill of Rights states that you should be aware of all home care providers in the area. Exceptional service and attention to individual needs is the focus at Beacon Home Care.
Make the exceptional choice!